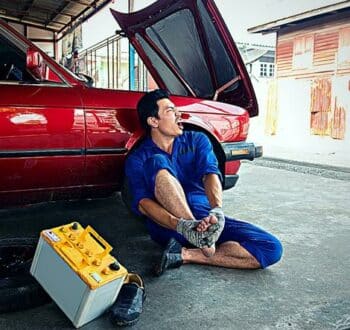 If you suffer additional health issues as a result of your original work-related injury and are considering filing a worker's comp claim in Chicago, you might wonder how to prove a secondary injury in workers' comp. To recover compensation for a secondary injury, you must prove the original injury contributed to the development of the secondary injury. This is done by establishing a direct link between the first and second injury instead, rather than just its relationship with the workplace.
Proving a secondary injury in workers' comp requires sufficient and convincing medical evidence. Obtaining medical records and a medical expert's witness testimony may help demonstrate to the insurance company or judge how you developed a secondary injury as a result of your original on-the-job injury.
A workers' compensation attorney can help you obtain relevant medical records, work with workers' comp doctors, and build a strong claim to increase the odds of receiving a fair workers' comp settlement.
What Is Considered a Secondary Injury?
A secondary injury is an injury that occurs as the result of an initial injury. Instead of being present at the time of the work-related accident, a secondary injury can develop days, weeks, or even months following it. This type of injury is the result of changes in the body that occur due to the primary event or injury. It can also stem from a person's attempts to cope with the primary injury, and can develop during the process of rehabilitation or recovery.
Examples of secondary injuries during workers' comp include:
Chronic pain after a broken arm
Structural damage to ligaments, tissue, and tendons surrounding the injured area
Oxygen deprivation due to inflammation
Mental health conditions due to the realization that one will be unable to live his or her life as he or she did before the injury
Deep vein thrombosis after surgery
How Secondary Injuries Occur
Secondary injuries can occur in many ways. They can be caused by the mandated use of prescription medications, the use of specialized equipment, or forced physical therapy. Others occur due to medical malpractice issues.
Some of the most common causes of secondary injuries include:
Surgery
Some work-related injuries require surgical procedures. These injuries include spinal cord damage, head and brain injuries, knee injuries, and internal organ damage. Surgery, however, has some side effects. There's usually some pain, swelling, or soreness after the operation.
There can also be unplanned events linked to the operation. These include wound infection, reaction to anesthesia, too much bleeding, shock, pulmonary embolism, lung problems, and urinary retention. These complications due to surgery amount to secondary injuries and may be covered by workers' compensation.
Mental or Emotional Distress
You might develop secondary emotional and psychological injuries after sustaining a physical work injury. Secondary mental injuries include anxiety, depression, PTSD, stress, sadness, or anger. Prescription medication, aggressive treatment procedures, ongoing pain, and detachment from friends and family can exacerbate mental injuries.
These secondary injuries can result in decreased productivity, social withdrawal, and missed time from work, all of which affect both the employee and the employer.
Medication Injuries
Prescription medications can cause abuse and dependency, both of which result in long-term financial, health, and social implications. Even if chemical dependency doesn't occur, prescription medications are known to cause allergic reactions, coma, overdose, or even death. The adverse effects of prescription medication are considered to be linked to the primary injury, especially if you have to take the medication to continue receiving workers' benefits.
Physical Therapy
Physical therapy treatments are meant to assist your body to heal itself after an injury by enhancing the natural healing processes. Physical therapists have a responsibility to prevent injuries from occurring during sessions and ensure the equipment given to patients works correctly. If a patient sustains a secondary injury when a therapist fails to uphold his or her responsibility or because the patient is forced by his or her employer to receive physical therapy before he or she is medically ready, the patient may be entitled to additional benefits.
Knowing When Workers' Comp Covers Secondary Injuries
Understanding what qualifies for workers' comp is important if you're considering pursuing compensation for a secondary injury. In Illinois, workers' comp insurance should cover these injuries when they are a direct and natural consequence of the compensable work-related injury.
If, for instance, you develop an infection after undergoing surgery for a work-related hip injury, workers' compensation should cover the cost of treating the infection. This should also apply if you develop severe health complications or dependency due to prolonged use of prescription drugs to treat your primary on-the-job injury.
Victims may face obstacles when pursuing compensation for a subsequent injury. Many insurance companies deny payment for secondary complications for different reasons. For instance, they might claim that the secondary injury is not related to the primary one. The insurance company might also claim that the secondary injury was caused by a pre-existing condition, not the primary on-the-job injury.
That said, not all secondary injuries are covered. For example, if an employee injured his or her back at work, resulting in a herniated disc, and three months after he or she stopped treatment for his or her work injury, he or she experienced sharp pain while carrying groceries and eventually required physical therapy. In this case, the subsequent act of carrying groceries can be considered a separate injury that is not compensable.
The types of workers' compensation benefits you can receive for a secondary injury depend on how the injury has negatively impacted your life.
How to Prove a Secondary Injury
To receive additional workers' compensation benefits, you must show that the primary on-the-job injury caused your secondary injuries. In other words, you must establish a link between the secondary injury and the primary injury. This can be achieved by:
Presenting Medical Records
A doctor's assessment of the injury he or she is treating you for and its cause is an important piece of evidence. Details about treatment and office visits are also significant. So, you should seek medical attention immediately after developing a secondary injury.
Then, ask your physician for medical records containing details of your primary and secondary injuries. Diagnostic test results, doctor's notes, discharge summaries, medical histories, and independent medical evaluation (IME) reports are some of the medical records that can help prove a secondary injury in workers' comp. Following the 48-hour rule for workers' comp, the doctor performing an IME must give his or her report at least 48 hours before the set hearing time. Submit these records along with your claim for secondary injury workers' compensation.
Expert Testimony
As mentioned earlier, a secondary injury workers' compensation claim may be denied by your employer or insurance company by arguing that the secondary injury is not related to the primary injury or is caused by a different pre-existing condition. You can overcome such arguments with the help of a medical expert whose specializations are related to your injury. If you hurt your spine, for instance, testimony from an orthopedic spine doctor can help boost your case. It can explain the impact of your secondary injury on your life, as well as your future medical needs.
How a Workers' Compensation Lawyer Can Help
Proving that secondary injuries are the direct result of issues surrounding the initial workplace injury can be quite tricky, especially for an individual who isn't familiar with the ins and outs of workers' compensation law. Insurance companies may deny or delay claims. If they get their way, they get to protect their bottom line.
The insurance company is legally allowed to pick your doctors. If you don't fully agree with that doctor's diagnosis, you have the right to request medical evaluation from another doctor. In some cases, however, injured workers fight tooth and nail just to exercise that right. There are cases where insurance adjusters refuse to authorize treatment. Sometimes, treatment is delayed, prescriptions are not reimbursed, and the injured worker is not given access to expensive equipment, leaving him or her with huge out-of-pocket expenses.
For such reasons, it's important to work with a Chicago workers' comp attorney to handle the case on your behalf. An attorney with experience resolving workers' comp cases can improve your odds of getting additional workers' compensation benefits for your secondary injury. Your attorney can help you gather and organize medical documentation to prove the link between your secondary injury and primary injury.
By presenting sufficient evidence, getting witness testimonies, and negotiating with the insurance company, the lawyer can increase your chance of receiving a maximized settlement. An attorney will also prepare you for the workers' comp hearing by explaining what to expect and how to handle the situation in advance.