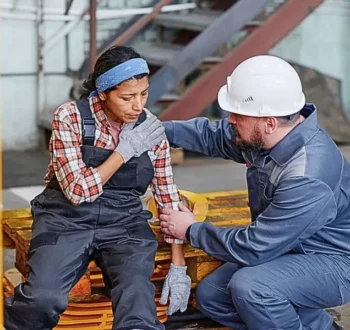 Workers' compensation shoulder injury settlements vary greatly due to the uniqueness of each injury and claim. Even a common injury, like a torn rotator cuff, can range from minor to severe. Thus, it is difficult to say exactly what the average compensation payout for a shoulder injury is.
Factors That Affect a Workers' Comp Settlement Amount
Workers' compensation in Illinois provides benefits for medical treatment, as well as lost wages and reduced earnings capacity, if you sustain an injury that causes a disability or requires you to take time off work while recovering. However, the amount of compensation you receive can depend on several factors.
Your Earnings Before the Injury
Before getting hurt, you would have been earning a wage. When you file a workers' compensation claim, part of it will likely cover lost wages if you are unable to work, or lost earnings capacity if you can't work and earn the same salary or wages in the future. As such, the amount of compensation you get for lost wages or lost earning capacity will be determined by your pre-injury earnings.
Severity of the Injury
In general, the more severe your injuries are, the more compensation you can expect. If your injury prevents you from working in any capacity, your case will be valued higher. On the other hand, if you can continue to work and earn an income similar to your previous salary, your claim may be worth less. If you can only work at a lower wage, your claim will be worth more. If you can't work at all, your claim will have a maximized lost wage payout.
Medical Treatment Received
A portion of your workers' comp claim accounts for medical treatment bills. If you had a serious injury that incurred significant medical treatment costs, you will be able to claim more compensation. If your injury was minor and required less medical intervention, you will have fewer bills to claim.
Future Medical Treatment
When filing for workers' comp, you can claim future medical treatment in addition to bills already incurred. As such, injuries that require ongoing or future medical treatment are typically worth more than those that do not. Injuries that require future surgeries or ongoing physical therapy and medication can also increase the settlement value.
If your injury causes additional injuries in the future, your claim can be more valuable. For example, if you hurt your back, it's possible that you may have future injuries to your hips and knees. If those injuries require future treatment, your claim's value will increase.
The more long-term consequences that are likely to arise from your injury, the higher your workers' comp shoulder injury settlement is likely to be.
Average Workers' Comp Settlement for a Shoulder Injury
Shoulder injuries that do not require surgery may result in a lower settlement that falls in the low five figures. Injuries that require surgery but do not prevent you from working could be valued at the higher end of the spectrum. The most significant values are given to injuries that cause full disability for any length of time and require surgery.
However, these values may not accurately represent the settlement amount for your specific case. The amount you may receive depends on the unique circumstances and details of your case.
It is best to work with your workers' comp lawyer to calculate the current and future costs of your work-related shoulder injury fully. Factors that determine the amount you can receive in workers' compensation benefits for your shoulder injury include:
The severity and location of your injury,
Your medical needs,
The duration of your inability to work,
Your ability to perform job duties,
Your wage on the date of the injury, and
Any permanent disabilities that remain after you reach Maximum Medical Improvement.
What You're Entitled to Recover in a Workers' Comp Claim
To qualify for workers' comp, you must first have suffered a work-related injury or illness. Workers' compensation exists to cover related expenses, such as medical care, missed wages, vocational rehabilitation, ongoing care, and death benefits.
Medical Care
Workers' comp provides coverage to compensate you for medical expenses related to your injury. It will cover all expenses that are reasonably necessary for you to recover from your injury or illness, such as doctor visits, tests, medicines, equipment, and travel costs.
Missed Wages
Workers' compensation will also provide a means for you to replace some income you would have lost due to taking time off to recover from your work-related injury or illness. The income replacement paid to you under workers' compensation is typically less than your full salary, with the most generous programs paying about two-thirds of your gross salary. This is commonly referred to as temporary disability benefits, where you receive payments if you lose wages because your injury prevents you from doing your usual job while recovering. If you are permanently unable to work, workers' comp may pay you permanent disability benefits in the same capacity.
Vocational Rehabilitation
If you have been injured or disabled due to a work-related incident and cannot return to your previous employment, workers' compensation provides vocational rehabilitation benefits. This includes job training, career counseling, and assistance in finding new employment.
Ongoing Care
Some injuries are severe enough that they need long-term or ongoing treatment, In case you require ongoing care due to severe work-related injuries or illnesses, workers' comp insurance can cover your expenses, such as physical therapy.
Death Benefits
If a family member dies due to a work-related incident, workers' compensation provides death benefits. These benefits are paid to the spouse, children, or dependents of the deceased person. Death benefits usually include compensation to the worker's family for their loss, including loss of support. They also include coverage for funeral and burial expenses.
What Types of Shoulder Injury Settlements Are There?
Settlement agreements for workers' compensation claims in Illinois can come in two forms: stipulation and award or compromise and release. These agreements are typically reached during the mandatory settlement conference.
Stipulation Award
In rare cases, workers' comp claims may be settled with a stipulation and award, creating an ongoing relationship between the claimant and the insurance company. Under this type of settlement, the insurance company agrees to pay for ongoing medical costs and disability benefits. The disability benefits are set at a specific amount and paid regularly for a certain period of time. However, if the injury worsens, the amounts can be adjusted.
Compromise and Release
The majority of workers' comp settlements are compromise and release, in which the insurance company agrees to pay a predetermined amount of money to close the case. Once the lump sum is paid, the workers' compensation claim is resolved. Unfortunately, if the settlement amount is discovered to be insufficient, there are limited options for reopening the case.
Compromise and release settlements are generally considered the standard for workers' comp claims. If you are thinking about why you should hire an attorney, he or she will be able to guide you through this process.
Common Work-Related Shoulder Injuries
Shoulder injuries can occur due to a sudden accident or as a result of repetitive stress, heavy lifting, or other causes. The shoulder comprises multiple joints, muscles, and tendons, which can all be susceptible to injury.
Torn Rotator Cuff
One of the most common workplace-related shoulder injuries is a torn rotator cuff. It can either occur suddenly, such as when lifting a heavy object that tears the muscles in the shoulder, or gradually over time due to constant repetitive motions and lifting that can tear the muscle.
Some torn rotator cuffs can be severe, debilitating, and require surgery to treat. The muscles and tendons may have torn off the bones in the shoulder joint, which can cause permanent weakness or chronic pain. These injuries can lead to settlements reaching six figures, especially if the impairment rating means that the shoulder has a permanent total disability.
On the other hand, some rotator cuff injuries are relatively minor and involve a partial tear or frayed muscle. While these can cause discomfort, they may not impact your daily life. These injuries often lead to smaller settlements in workers' compensation cases, often in the low five figures.
Broken Collarbone
A broken collarbone is a significant injury that causes a lot of shoulder pain, but it rarely produces long-term disabilities. Hence, settlements for injured workers who have suffered these injuries are frequently relatively small.
Frozen Shoulder
Frozen shoulder is a complication typically arising from not receiving adequate medical treatment or physical therapy for a different shoulder injury. The condition leads to your shoulder stiffening up and developing chronic pain while losing nearly all range of motion. The average settlement for these cases is often higher.
Other serious shoulder injury cases, such as labral tears, can lead to severe shoulder impingement. In some cases, shoulder replacement surgery may be required, but the severity of the injury can vary widely, and the nature of the necessary shoulder surgery can significantly affect the settlement amount.