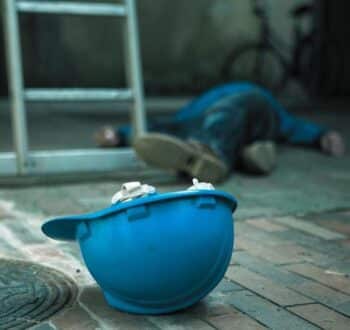 If you sustain injuries in the workplace or elsewhere while on the job, you may qualify for workers' compensation to cover the losses you sustain. If you're considering filing a workers' comp claim, it's best to know what qualifies for workers' comp in Illinois and how to file a claim.
What Illinois Workers' Comp Covers and Doesn't Cover
Under the Illinois Workers' Compensation Act, individuals who sustained work-related injuries may be able to receive coverage from their employers' workers' comp insurance carrier. Generally, workers' compensation covers all types of injuries that workers' sustain while on the job, whether at their workplace or off-site. They can also cover certain types of conditions that develop over time or the employee's work worsens.
Workers' compensation covers multiple types of damages, including medical costs, lost income, disability, and job retraining. With the help of this coverage, injured employees have the chance to financially recover from a work injury and progress with their medical recovery.
While workers' compensation covers many types of injuries and illnesses, there are some conditions that this insurance won't cover. For example, you may not be able to receive workers' compensation if you sustain your injury or illness:
While you engaged in illegal activity on the job
When your conduct on the job was in violation of company policy
While you weren't acting within the scope of employment
As a result of self-inflicted wounds, including injuries resulting from starting a fight
If you're not entirely sure whether your case qualifies for workers' compensation in Illinois, you may want to consult an Illinois workers' comp lawyer to discuss your case. He or she will help you determine what kind of compensation you're eligible to recover and prepare the forms necessary to proceed with a claim.
Who Must Carry Workers' Compensation Insurance in Illinois?
According to Illinois law, most employers in this state must carry some form of workers' comp insurance. All employers with at least one part- or full-time employee must offer workers' compensation benefits. These employers could include individuals, small businesses, large corporations, medical facilities, and many other types of employers hiring staff.
Although most employers must carry workers' comp insurance, some may not need this insurance coverage, depending on the nature of their business.
For example, employers may be required to carry workers' compensation insurance if they are the sole proprietor, member, or partner of a company that qualifies as a limited liability company (LLC). LLCs generally don't need to pay compensation for self-sustained accidental injuries.
Additionally, employers are typically exempt from carrying workers' comp insurance if they are a corporate officer, secretary, VP, or a treasurer for an organization that chooses to decline coverage. Domestic workers in any type of residence may also not qualify for workers' comp insurance if they work less than 40 hours per week in less than a 13-week period within a year.
Types of Injuries Covered by Workers' Compensation Benefits
Workers' comp insurance can cover a wide range of workers' comp injuries that employees may sustain while on the job. Some examples of these include the following:
Slip and Fall Accidents
Workers may slip and fall on equipment, debris, and other obstacles in their path while on the job. These are the most common type of workplace accident, and can lead to serious injuries in some instances. They often result from poor maintenance and inadequate cleanup.
Falling from Heights
Workers may also sustain injuries when falling from heights. For instance, workers may perform various tasks on scaffolding, and, without proper harnessing, may fall off the platform and sustain potentially serious or life-threatening injuries. There are potentially many locations and causes behind these accidents.
Vehicle Accidents
Many types of vehicle accidents take place on the job, whether on- or off-site. They might involve company vehicles or privately owned vehicles. For example, an employee may get into an accident in his or her own vehicle while completing a delivery, while another might operate a forklift and get into an accident in a company warehouse. However, vehicle accidents won't typically count toward workers' compensation if they occur while the employee is commuting to or from work, taking a break, or otherwise off the clock and driving in a personal capacity.
Overexertion Injuries
Workers may sustain overexertion injuries on the job due to heat exhaustion, working long hours without a break, or completing work involving heavy lifting or other stressful tasks. Many industries see these types of injuries, including everything from construction to agriculture.
Repetitive Stress Injuries
Repetitive stress injuries occur when employees perform the same motion repeatedly, often over time. Typically, workers who perform manual labor are more susceptible to these injuries because of the repetitive nature of their work. Injuries could occur from heavy lifting, frequent moving, and other motions that use the same part of the body.
Struck Against or By an Object
Objects could cause injuries to workers in a couple different ways. The first is for something to strike workers against objects, in which case the impact of the accident could cause various injuries ranging from broken and fractured bones to amputations or traumatic brain injuries.
Another way objects in the workplace may cause harm is when they fall onto workers. Pieces of loose equipment or machinery could fall, or entire structures may fall. These accidents could also cause serious and potentially fatal injuries to workers.
How to File for Workers' Compensation in Illinois
With a better idea of what qualifies for workers' comp in Illinois, you can begin the claims process by filing with your employer's workers' comp insurance carrier.
You can take the following steps to get started on a workers' comp claim.
Seek Treatment for Your Injuries
The first step you should take is to begin seeking treatment. This may entail immediate care if your injuries are serious enough to warrant them, but you should consult a medical professional regardless of the extent of your injuries. You may also notice injuries suddenly that could have developed over time due to repetitive stress.
Your employer's workers' comp insurance carrier may designate a medical professional to consult, in which case you will need to get an assessment and diagnosis from this care provider. However, you may be able to get a second opinion from your existing care provider or another professional.
Report the Injury to Your Employer
Another critical step is to report the work injury to your employer as soon as possible. You only have a limited amount of time to report to your employer before you no longer qualify for workers' comp. In Illinois, this time limit is 45 days from the date of the injury.
Generally, it's in your best interest to notify your employer of your injury as soon as possible, which will get you started on the paperwork needed to begin filing a work injury claim.
Gather Evidence to Help Prove the Extent of Your Injuries
Workers' comp insurers will work to minimize the amount of compensation you're able to recover or find a reason to deny your claim. To help ensure you get the full amount of compensation you deserve, it's important to collect as much supportive evidence as you can.
There are several types of evidence that can show that your injuries are valid and as severe as you claim they are, including photos of your injuries and the scene of the accident, medical records, accident reports, and testimony from coworkers or other witnesses at the accident scene.
Begin the Claims Process
After notifying your employer of your injuries, your employer will indicate which medical professionals you're able to see if necessary and begin the claims process with the workers' comp insurance carrier. Employers have 14 days to respond to a workers' comp claim if your injury has caused you to miss work for three days or longer. Your employer will also need to file a report with the Illinois Workers' Compensation Commission within 30 days.
Keep Up With Your Case
After filing a workers' comp insurance claim, you can check the status of your claim with the Illinois Workers' Compensation Commission. If the organization denies your claim, you may have the option of appealing.
Speak With an Attorney
It's often in your best interest to speak with a lawyer about your case to get a better idea of how to prepare and navigate the claims process. You may need help with preparing paperwork or understanding your rights, which is why workers' comp lawyers are available to provide legal advice and guidance.
Find Out Whether You Qualify for Workers' Compensation
In the event of a work-related injury, you may qualify for workers' compensation if the injuries occurred while on the job. You may be able to file a claim with your employer and consult an attorney to discuss the options available to you.