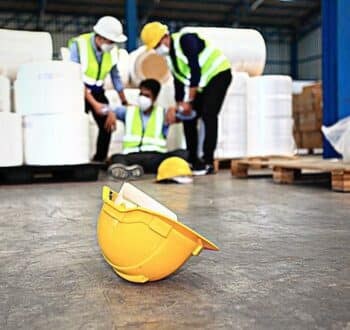 Since reporting your injury to your employer in time can help begin the workers' compensation claim process, you must understand your options if you failed to report work injury. The first step is to retain a lawyer with a proven record of resolving cases like yours. A seasoned workers' compensation lawyer can guide you through your legal options if you failed to report a workplace accident. These options include negotiating with your employer or workers' comp insurer, submitting a complaint to your state workers' comp commission, using exceptions that might apply to your case, and filing a lawsuit.
Under Illinois laws, you have up to 45 days from when the accident occurred, or you were diagnosed with a cumulative/repetitive use injury or toxic exposure to report to your employer. Keep detailed records of the events leading to the accident and any witnesses involved when reporting a workplace accident and ensuing injury.
How Long Do You Have to Report a Work Injury?
The deadline for reporting a work-related injury in Illinois is 45 days after getting involved in the accident. For an injury brought by cumulative or repetitive use or toxic exposure, the time limit is 45 days from when you discovered you were injured.
Refer to your employer's rules to know the deadline for reporting an injury, since company rules may differ. You must file the report shortly after getting involved in a workplace accident or noticing the injuries to protect your workers' comp benefits.
Even as you strive to meet the deadline for filing the report, do not accept the insurance company's or employer's request for a recorded statement. The law only requires employers in Illinois to make their employees report injuries in written form.
Are You Eligible for Workers' Comp Benefits?
Workers' compensation covers most employees of businesses operating in Illinois. Workers' compensation will still cover you if it is your first day at work or you are an employee in training. However, its coverage does not apply to Chicago police officers, farmworkers, federal workers, or independent contractors. So, if you were injured at work performing duties as one of these workers, you cannot file a claim for workers' compensation benefits.
Some employers label their workers as independent contractors to lock them out of workers' compensation benefits. Having an aggressive workers' compensation lawyer on your side can help you navigate this situation if it applies to your case.
Under Illinois workers' compensation law, you are entitled to employer-financed medical care after contracting an illness or getting injured at your workplace. You can also enjoy the entitlement if the conditions in the workplace worsen a pre-existing condition that you had.
Since workers' compensation benefits do not qualify as tort, you will not have a right to file a lawsuit against the employer for a work-related illness or injury. Accepting the benefits waivers your right to pursue further legal action against your employer for your losses or injuries.
What Does Workers' Comp Cover?
Workers' compensation covers most work-related illnesses or injuries in part or whole. Examples of what is covered include workplace-related slip and falls, permanent or temporary total disability, and exposure to dangerous substances or chemicals that can cause illness. Developing impingement syndrome or carpal tunnel syndrome due to repetitive motions, having a heavy object fall on you, or hurting your back or knees while lifting a heavy object are other covered work injuries.
The law also requires your employer to cover the medical treatment costs with the help of a workers' compensation insurance company. You may get part of your income if the injury or illness keeps you out of work for several days.
What Does Workers' Comp Not Cover?
Workers' compensation benefits only cover injuries or illnesses sustained from a work-related activity. They do not apply to certain injuries or illnesses. A worker cannot, for instance, report and pursue compensation for an injury sustained due to poor conduct at work, like starting a fight at the workplace premises. Workers' compensation insurance does not cover injuries or illnesses suffered when committing an illegal activity, as well.
You cannot seek workers' comp benefits for an injury or illness you got out of the workplace site or outside your job duties. Illinois workers' compensation law also does not apply to injuries sustained when violating an employer's code or policy or driving to or from work.
Reporting a Work Injury
Reporting a workplace accident to an employer forms the first step in the claims process involving workers' compensation benefits. If you do it immediately, it can strengthen your claim and allow you to seek treatment.
You may file the report before or after seeking treatment, depending on the events that led to the workplace accident and the nature of the injuries sustained. If you are seriously hurt and need urgent medical care, waiting until you are fully conscious to file the report is reasonable.
What to Include in the Report
Illinois laws on workers' compensation require you to maintain detailed documentation that discusses the specifics of the work-related injury. The records should also list any individuals present during the accident or whom you told about the incident.
Your employer will expect a detailed work-related injury or illness report covering the following details:
Your full name, job position, work duties, and contact information
The accident time and date
Your location at the time of the accident and what you were involved in when you sustained the injury
Symptoms you spotted that suggested you had a work-related injury or illness
Body parts that the injury or illness affected and any impairment you suffered
Names and contact information of the people who were at the scene when the work-related accident occurred
Record keeping is crucial to the claims process involving workers' compensation benefits. It helps you gather evidence that you can use to back up your claim for the injury or illness. You should file a written report documenting the accident facts and your losses. Ensure that you have someone present when issuing the notice to your workplace supervisor. The witness can confirm that you filed the report as mandated and help you counter any late filing claims. You should also keep a copy of the report for the same effect.
What If You Failed to Report Your Work Injury?
While the 45-day rule ensures that eligible employees report their injuries or illnesses on time to start the workers' compensation claims process, it has exceptions. You may be allowed to report a medical condition sustained at work that took a couple of months or years to develop.
Your employer may also make an exception for an injury or illness caused by repetitive acts. However, for these exceptions to apply, you must notify your employer once you become aware of the injuries.
The law prohibits employers in Illinois from firing or harassing employees who file the report late. It only allows them to deny workers' compensation benefits if the injuries or illnesses are exempted under the policy coverage. They can also lock out workers who are not eligible for the benefits.
If your employer harasses or threatens to fire you for failing to report your injuries on time, the Illinois Workers' Compensation Commission can hear your appeal. You have a maximum of three years from the date the workplace accident happened to appeal to the IWCC. The IWCC will demand the employer adhere to the law and compensate you for losses from the work-related accident if it determines you are eligible for compensation.
Other Steps to Take If You Forgot to Report Your Injury
If the injury or illness symptoms start to show later on, seek medical attention. The healthcare provider will diagnose your condition and offer appropriate treatment. Get records of your medical diagnosis, hospital admission, and treatment plan.
Remember everything before and after the work-related accident and write down the details. You can contact coworkers or individuals who might have witnessed the accident to provide details about the occurrences.
If your employer refuses to accept the report, hire a workers' compensation lawyer to advise you on the necessary legal steps. Discuss your injury case with the attorney without leaving out any bits that may help you obtain a positive result from your case. After reviewing the case facts, the lawyer will help you determine whether you have grounds for filing a workers' compensation claim. If you do, your lawyer will oversee discussions with your employer or the employer's insurance company. 
Pursuing a lawsuit against your employer's insurance company is usually the final option if you have been denied workers' compensation benefits because you failed to report a work injury on time. Your lawyer will help you develop evidence-supported arguments to demonstrate your eligibility for the benefits and guide you through settlement negotiations or trials, depending on the lawsuit course.